Most Fortune 500 companies have already adopted Enterprise Resource Planning (ERP) systems and many midsize companies are in the process of implementing ERP systems. Corporations world-wide have focused on improving business processes for the past two decades. In their efforts to use information technology to more effectively enable business processes, we have seen the emergence and growth of Enterprise Systems, and more recently, Extended Enterprise Systems such as Supply Chain Management (SCM) , Customer Relationship Management (CRM) , Strategic Enterprise Management (SEM) , Performance Dashboards and Scorecards , and Business Intelligence .
With a commitment to keep pace with these changes in business processes and technology, Missouri S&T joined SAP University Alliance, Oracle Academy, and Microsoft's University Alliance programs in order to continue and expand classroom capabilities for integrating ERP software into our program curriculum.
ERP is viewed as a combination of business management practices and technology, where Information Technology integrates with a company's core business processes to enable the achievement of specific business objectives. ERP systems incorporate state-of-the-art technology, providing a comprehensive teaching tool for business and for information systems. The Missouri S&T ERP program has been leveraging various ERP products and technologies from SAP, Oracle, and Microsoft to enhance our students' learning experiences through a well-designed and balanced curriculum. Our program works very closely with many ERP companies on different collaboration projects to serve our business community and to bring managerial relevance into our business education in a Hi-Tech world. At Missouri S&T undergraduate and graduate students are prepared for positions as both technical and business consultants in the ERP field.
Our Goals
Leverage the information technology to achieve a competitive advantage through Enterprise Resource Planning (ERP) education
Break academic "silos" to show students how one discipline affects another and ultimately how they all impact the company
Bring managerial relevance into academic teaching through industry collaboration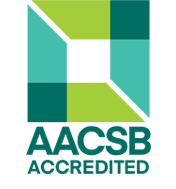 AACSB international is a global organization whose mission is to advance quality management education. AACSB provides internationally recognized specialized accreditation for business and accounting program and the accreditation award is the highest international standard by which business schools are measured. Less than 5% of the world's business programs have earned this accreditation.
For current or potential student this accreditation assures that the degree you earn is relevant and valuable to your career. Employers know you are receiving a quality education that is teaching the knowledge and skills they require. Schools with accreditation have more employers that recruit from them and graduates receive better salaries. Our AACSB-accredited ERP program is held to rigorous standards of quality that assure our degree programs are providing a first-class education.